VPT The Dutch association for stage technology
The Dutch association for stage technology.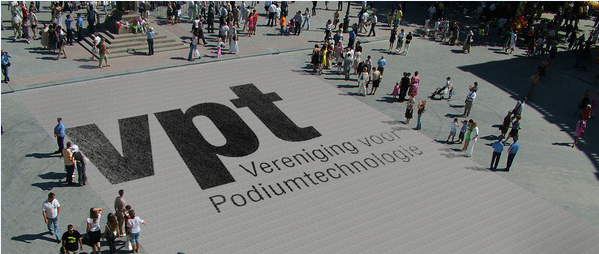 The VPT is a large association with approximately 1250 members (individuals, companies, venues, theatre companies, educational institutes). The VPT is committed to contributing to innovation, expertise, professionalism, (re)education, and to the health and safety for everyone who works behind the scenes in the stage and event sector. This happens through research, knowledge exchange and by providing an extensive networking platform. The VPT is represented in specific organisations that in different ways affect the interests of VPT members.
Zichtlijnen
The VPT publishes the magazine Zichtlijnen. Which is an impartial and reflective professional magazine for everyone who works behind the scenes in the stage and event sector. Zichtlijnen is distributed free to VPT members.
Activities
The VPT organizes educational symposiums and seminars that highlight specific themes and disciplines within the industry. The VPT offers in-depth specialist workshops given by authorities in de field.
Books
The VPT is both a vendor and a publisher of specialist books on theatre design and technology.
Website, Social media and Digital newsletter
The website and the social media channels provides access to a large archive of information. You can also find news, jobs, who-is-who online and even an online marketplace. Every three weeks members and subscribers receive the latest news via digital newsletter.
The VPT Network
The VPT network is highly active. Our members include over a thousand private persons and more than three hundred theatres, theatre companies, businesses and educational institutions. Membership provides you access to this very large and dynamic network of people that work in the field of stage technology.
Foreign Policy
The VPT strives for functional co-operation, professional development and exposure for its members at both the European and global level. Through international organisation OISTAT the VPT has an international network of technicians, designers and architects. Foreign speakers are often invited to speak at VPT events. A VPT member is automatically an OISTAT member.
Knowledge centre
The VPT strives to be the knowledge centre for the sector. This makes it easier for members to apply for grants for innovative researches.
Representation of interests
The VPT represents the interests of its members in various standards commissions and workgroups. For example the VPT counsels the Organ for
regulating working conditions and is represented in NEN and PMSE.
Membership
The VPT knows various forms of membership, including international membership, each with it's own benefits. For more information and prices please contact us at info@vpt.nl or visit our website www.vpt.nl.